Presentation
TREAT YOURSELF WITH HEALTHY PRODUCTS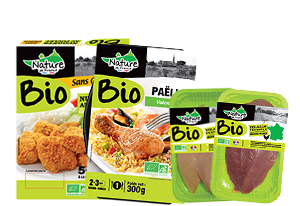 In each product Nature de France, you will find the guarantee of healthy and quality products. Our ambition, by developping each of our products, is to generalize a healthy agriculture certified by our value chain commitment.
You will find our wide range of products in supermarkets and more specifically in your conventional poultry section. Our distributors attach a great importance to the upholding of our value chain. By buying products Nature de France, you will participate to the remuneration and the preservation of 100 breeders families.
From the simplest to the most elaborate products, Nature de France offers a wide range of products, for every moment. Because we can't cook everything or because we often cook the same recipes, we accompany you with recipe ideas and tricks for each of our product.