Presentation
The taste of the organic commitment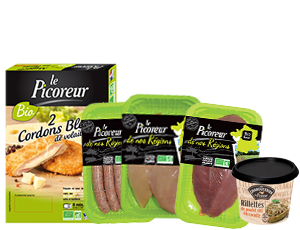 Le Picoreur is the organic poultry's brand, which is innovative, gourmet, committed and reserved for organic specialized stores only. Bodin's historical partners for 30 years, we share the same values.
By buying products Le Picoreur, you support the militant approach of the organic stores and you contribute to the upholding of an alternative production method and a better agriculture without chemical additives, for good and healthy products.
From the simplest to the most elaborate products, Le Picoreur offers a wide range of products, for every moment. Because we can't cook everything or because we often cook the same recipes, we give you recipe ideas and tricks for each of our product.